The On Cloudswift Is a Fast and Dynamic Trainer
A springy midsole makes the shoe responsive at every footstrike.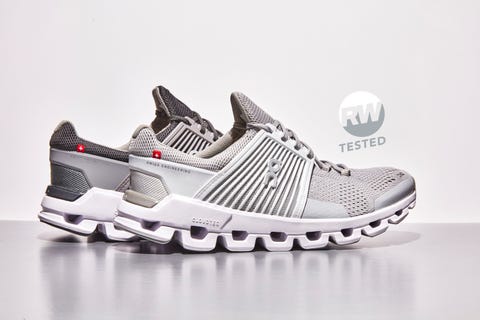 The RW Takeaway: The Cloudswift is On's answer to overly plush, lackadaisical running shoes
Foam cushioning tubes compress upon impact, then spring back to their original shape
The sock-like upper is highly breathable and stretches with your foot
The upper's supporting midfoot band isn't enough to keep narrower feet from sliding around inside the shoe
You'd think that a $150, middleweight trainer with "cloud" in its name would be abundantly cushioned, but the On Cloudswift isn't. It's instead a firm and responsive shoe that feels fast underfoot, thanks to a sole made from foam cushioning tubes and a plastic plate that puts some spring into the midsole. The tubes are designed to compress on impact1 for a soft landing, and when the two sides meet they provide a firm base for a fast toe-off. What results is a shoe with adequate cushioning and enough arch support to provide modest stability, but its strongest point is an active ride that keep you engaged in your stride.
Its sock-like engineered mesh upper is stretchy and highly breathable, and a comfortably wide forefoot accommodated testers' varying foot types. For support, the upper relies on a band that wraps around both sides of the midfoot. While midfoot stability is at a premium, the lacing doesn't reach high enough to provide a lock-down heel fit. Depending on your need for ankle stability, that means over-tightening the band to get enough support—narrow-footed testers couldn't find a secure fit without aggressively constricting the band. It's arguably too heavy for race day, but buy the Cloudswift if you're after a responsive, fast-feeling trainer for up-tempo efforts (and don't have an especially narrow foot).
Running on CloudTec
Two proprietary technologies work together to bring you On's unique cushioning experience. The CloudTec midsole combines the company's Helion—a temperature-resistant foam that fuses firmer and softer elements—with rubber outsole patches for grip. Between the CloudTec midsole and the upper, On added a thin layer of thermoplastic polymer dubbed the Speedboard. As the CloudTec midsole tubes compress under impact, the Speedboard is meant to load up like a spring, helping you push off with maximum rebound. There's a 7mm offset between the heel and toe.
Although they're not stability shoes—On doesn't believe in correcting your foot mechanics—a notably high arch stabilizes the midfoot. The cushioning feels firm, and that makes it feel fast. The Speedboard's flexibility is evident as you feel your foot roll over the CloudTec tubes with each step. "I felt the way the sole is molded, it allowed for great flexibility on rocks or surfaces where your entire sole engages the surface," one tester noted. "I loved this shoe for longer runs as my feet never felt discomfort."
A Breathable, Roomy Upper
A one-piece engineered mesh upper sheathes your foot and a rubbery band wraps around either side of the midfoot and contains the top four eyelets for the Cloudswift's thin laces. The upper's material ventilates well. "The shoe is highly breathable," said one tester. "I wore it for several runs in 90-degree and incredibly humid weather while on vacation in Hawaii, and my feet stayed comfortable the entire time!" The mesh is also stretchy and accommodating of wider feet, especially in the toe box, although testers with narrow feet griped over not being able to achieve a secure fit.
The prominent fit issue, shared by a majority of our testers, was that we had to over-tighten the midfoot band to achieve a stable heel and ankle fit, as the top eyelets are on the band. The lacing effectively stops at the midfoot. That restricted blood flow for some and didn't help others secure the heel or forefoot. That might not bother you if you don't normally lace up your shoes tight around the ankle or don't mind a loose heel fit, but we wouldn't recommend the Cloudswift for runners who need substantial ankle support. One tester noted that switching to thicker laces helped her feel more secure in the shoe.
Run Impressions
The Cloudswift feels fast underfoot. By weight and price, its competitors should be plush, neutral trainers like the Brooks Glycerin and New Balance 1080. The Cloudswift feels nothing like those shoes. It's much firmer and more engaging, and the lack of cushioning is less of a knock than a different approach to making a high-mileage trainer. "With so many overly foamy shoes these days, this was a perfect blend of comfort and performance," remarked Runner's World Photo Director Amy Wolff. "The shoe didn't change the way I run, instead it supported my feet every time I hit the ground."
The effect is jarring if you've just been running in a plush shoe, but there's enough arch support and stability from the Speedboard to help you adapt to the Cloudswift's energetic feel. Despite having minimal outsole rubber, traction was sufficient on wet and dry roads, although take the shoes offroad and you'll be picking out stones from the gaps between the tubes. The breathable upper keeps your feet cool, but doesn't repel water or offer much protection from a cold wind (although there's ample room to wear thick socks). Running in the Cloudswift isn't a passive experience, its firmness and responsiveness mean it doesn't do lazy plodding well. Instead, it's a dynamic, go-fast alternative to plush shoes that coddle your feet.
What One Tester Said
Brittni H., tester since 2017
Arch: Medium | Gait: Neutral | Footstrike: Midfoot
"The arch support is excellent, and it makes for a very comfortable ride when in motion. I always think of myself as (having) a medium arch, and I have never needed arch supports in my other running shoes. I really love wearing Altra's for trail running and the zero drop has never given me any issues. But the feeling of the foot bed on the Cloudswift being so contoured to the bottom of my foot was simply wonderful. I always felt supported and the higher arch really improved my stride."